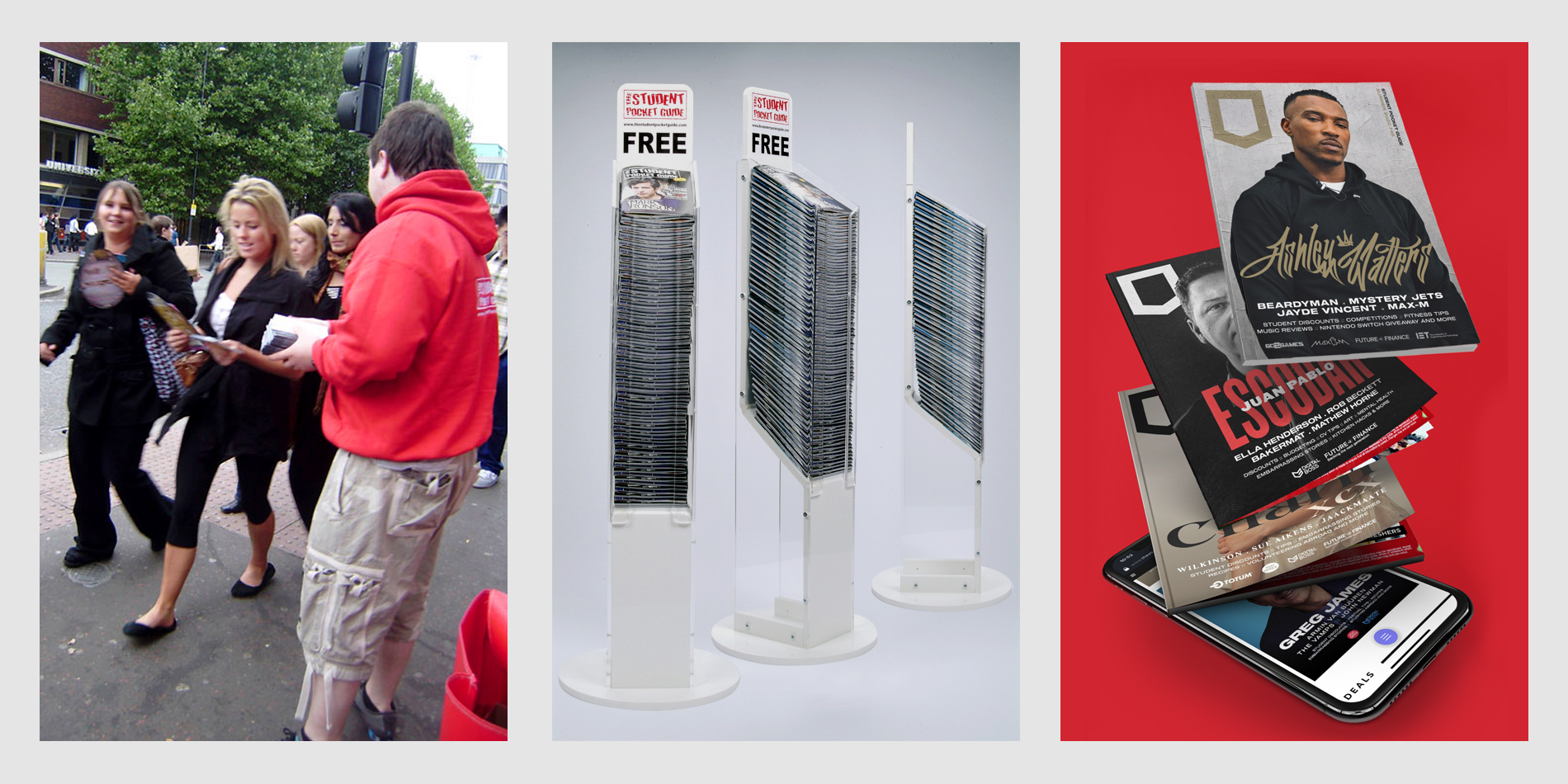 Having been established since 2005, there's no other student media company or UK student website more adaptable than us. Adapting – that one word is crucial for the ongoing success of any business, especially one focused around student media. Year-in, year-out vast numbers of students start university life. As each year passes and new students start their educational journey, other students graduate and with that, we are another year older.
As a student media business, we are aware of this cycle and ensure to always be one step ahead when it comes to our cutting edge, exclusive content as well as the platforms and technology we use to deliver our content to UK students.
When we first launched our business, we were a print only, pocket sized (A6) magazine. Branded SPG teams hit the streets handing out our magazine to students on and off campus. Initially our print magazine was launched in Norwich and after quick success, the team grew, and together they took the business nationally. Back then, Facebook was just being started, and wait for it… Apple hadn't even launched an iPhone yet!
Being adaptable is one of many skills we possess which is crucial in a fast-paced industry to maintain presence and remain a leader. This often means thinking outside-of-the-box, taking risks, staying one step-ahead and not just coming up with ideas, but fully executing them. When we were a print mag it was completely free – we used to often get asked why we do not charge for our student magazine (because back then, it was common to spend money on magazines). Our answer was simple: we're a student media company here to help save students money. It doesn't make sense to charge students when it is our aim to help save them money.
In 2014, when print magazines were still fairly popular, we took the decision to stop printing. We then recruited more content staff and that was the beginning of our digital transformation. Our focus was no longer on physical distribution and logistics, it was about higher quality and more frequently published content, video, new technology, new systems, digital reach and the ability to help more students at the click of a button.
As the years went by, we grew our student media team, gathered more years of experience, launched new platforms, learned algorithm patterns, improved data distribution and placed ourselves firmly in the new digital space. Our management team are constantly analysing and future-proofing our business to enable us to continue doing what we are passionate about: helping UK students and providing businesses with a professional vehicle and platform to reach them through.
To find out more about us, and partner with us to target the UK student market, please get in touch.